Add-Ons ahoy! Boss Update coming October 18
Not only does the Boss Update for Pocket and Windows 10 bring some much awaited mobs - the Elder Guardian can now be found in the sprawling, mysterious Ocean Monuments, and the Wither appears in revamped fighting form - there are loads of big technical tweaks besides. It's boss in every sense!
The biggest news is that this update will see the first implementation of Add-Ons. You'll hear even more about Add-Ons tomorrow if you tune into Searge and Jason Major's talk at 3.30pm PST, but here's the low-down: Add-Ons are the first step on our journey towards bringing even greater levels of customisation to all editions of Minecraft - starting with Pocket and Windows 10.
They let you remix mobs, switching out the models, textures and behaviours. Rideable chickens! Ultra-explosive pigs! Etc! It's pretty simple to grasp - all of these components can be tweaked and swapped by editing text files - but it's also super powerful, as demonstrated by the elaborate Alien Invasion Add-On we first showed at E3. Now we can reveal that SethBling, Blockworks and MindCrack have collaborated to produce a second example Add-On, called Castle Siege. A massive battle rages and you can pick either side: defend the fort from the mob horde or join the monsters and crash the keep!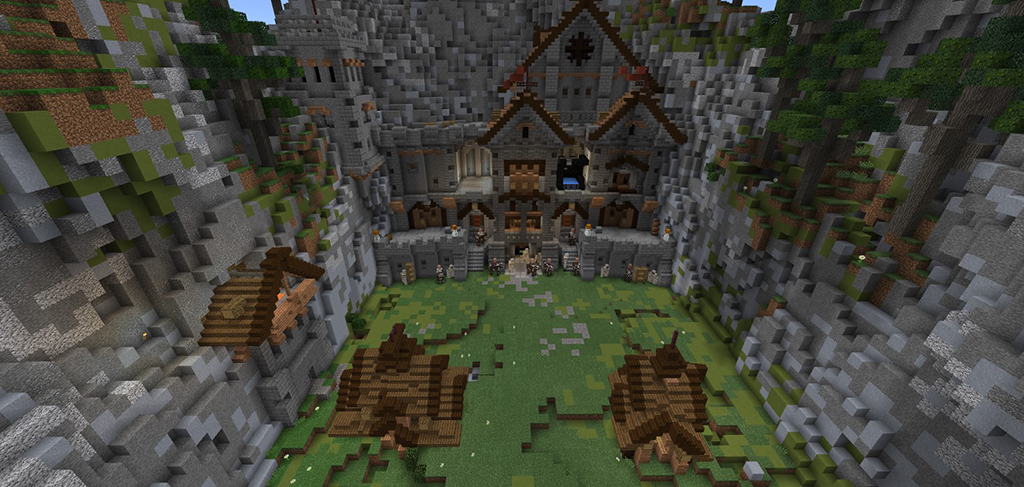 We've put together a new page all about Add-Ons which we'll add to in the coming weeks. Check back to download the sample Add-Ons for yourself soon! (Oh, and you'll be able to play them over Realms, too.)
And that's not all - the Boss Update brings a few more fab features:
You can now use slash commands! Summon things, set the time, change the weather, teleport to places, change blocks and much more.
Realms now supports importing and exporting worlds! Oh gosh!
Xbox Wireless controller support has been added to Gear VR Edition and Windows 10! And Oculus Touch support is coming to VR-lovin' Windows 10 players too! [UPDATE: Oops! Oculus Touch support is coming later in the year, not on October 18.]
Pretty boss indeed!
Cheerio!
Marsh - @marshdavies