The Weekly Chunk - Creepers Gonna Creep
Hi Guys,
First of all, this week I made a silly little video to show off one of the new Minecraft products!
Check out the creeper hoodie here!
Make sure you subscribe to our YouTube channel to get all the latest videos first!
A few exciting announcements this week:
1) We are just about finalized with the MineCon contract. We have an announcement video all ready for you. It will go up within a week and you'll find out the location and month! Then registration will go live within the next two weeks (hopefully).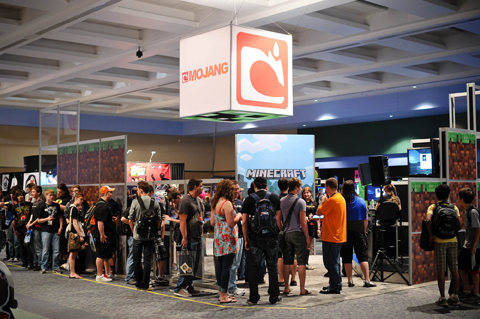 2) Super excited to announce that we applied and were accepted to do our own PAX Prime Panel. After Notch: The New Minecraft Team will feature Jens and the Bukkit team talking about what's happened with Minecraft since Jens became the lead developer and where they see things going from here. As soon as we get confirmation of the date/time we will let you know. The AWESOME thing is the panel will be live-streamed too! So ALL of you can watch it. Also our booth is going to be AMAZING!!!
3) Minecraft Pocket Edition got an update!
Minor release 3.2 (Furnaces - No more unlimited items)
Furnaces! Every available block and item can now be gathered, crafted or smelted into.
Grow trees! Saplings dropped when harvesting leaf with Shears.
More tiles such as thin glass, and half blocks in different material.
Gold, diamond and iron ore can now be gathered (smelt them for stronger tools)!
ATTENTION!
Have a great Wednesday!
Lydia